On Saturday mornings from May through October, the Spring Street parking lot comes alive with chatter and music. The sweet smells of flowers, fresh vegetables and baked goods surround attendees at the Williamstown Farmers Market (WFM).
Near the entrance, baskets of fresh tomatoes, berries, eggplant and mushrooms sit on a flowery tablecloth at a stand manned by Dylan and Windrose Morris-Keating. The couple run Talus Wood Farm, a three-acre farm in western Massachusetts. They do not own an agricultural store on their property, but rather choose to sell their products at various farmers' markets. WFM is their personal favorite.
"It's just a good vibe," Dylan Morris-Keating said. "It's popular, it's busy – they're doing the right thing here."
After coming to the market regularly for three years, the Morris-Keatings have amassed a handful of loyal regulars. "They usually come early to get the best, because the best goes fast," Dylan said. Their raspberries and strawberries are always the first to go, he added.
Peace Valley Farm owners Bill and Susie Stinson have said cherry tomatoes are their bestsellers. Since the Stinsons started selling products on the market in its first year in 1981, they've seen WFM grow tremendously, Susie Stinson said. "When we started, there were five vendors, and we were one of them," she said. "Now it's a destination: people come with their families, there are dogs, there is music. We didn't have any of that at the start. It took 20 years for all of this to start happening.
Peace Valley Farm has a close connection to the College as well as to the town: since 1990, more than 150 Williams students have completed internships there, and since 2000 the farm has worked with Food Services to provide fresh produce to students. The farm also provides Log Lunch staff with ingredients on a weekly basis. From 2004 to 2012, the farm also invited students from the "Where am I? EphVenture spending time on the farm harvesting vegetables.
Beyond farm stands, WFM has a growing list of vendors in other areas. Leslie Reed-Evans, who has served as market manager since last year, described the process for selecting providers to host.
"We weigh the [number of] food vendors, growers, farmers, bakers, convenience foods and artisans," Reed-Evans said. The marketplace's nine-person board then searches for new vendors to add options to buyers. Currently, WFM is looking to offer more prepared food items, such as burgers and breakfast sandwiches, as well as a wider range of vegetarian and gluten-free foods.
Sometimes vendors apply and fill roles that the board did not anticipate. "This year we added a fish vendor, which we didn't have [had] anticipated or fetched," Reed-Evans said. "But they applied, and we thought that would be a good thing, and it's sustainably harvested fish off the coast of Massachusetts."
Reed-Evans said WFM has become a valuable space for city residents. "The community just doesn't come here, buy what they want, then leave," she said. "They stay, they listen to the music, they get to know the vendors."
At the very back of the market, customers lined up in a long line waiting to get their hands on gingerbread, pumpkin streusel, fruit preserves and cheesecake brownies from Chris's Kitchen. Chris Bradich and his daughter Kerry Bradich have been vendors at WFM for nearly a decade and have been frequenting farmers markets for at least 30 years.
Both teams do all their work: Chris makes the jam and many of the baked goods, and Kerry makes all of their gluten-free products. Their most popular items are their blackberry-raspberry-rhubarb jam and chocolate chip cookies, Kerry said.
Kerry especially appreciates the market for its sense of community. "You have a good mix of locals, college kids and tourists," she said. "You can come here and stay all day, just hang out."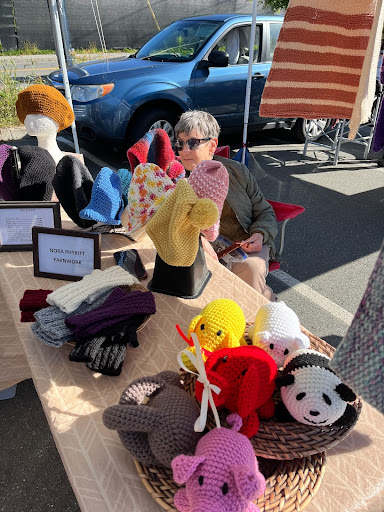 Nora Phyrkitt of Yarnworks, which has been in the market for about 10 years, also remarked on the energy of the market. "People are amazing," Phyrkitt said. "It's become a Saturday morning destination for the community, and it's so nice to see how happy people are to see each other."
As the market buzzed, Phyrkitt sat quietly knitting next to her table, which displayed a wide variety of hats, gloves and scarves, as well as a basket of small knitted animals.
Phyrkitt also likes to walk around the market. On a typical Saturday, she may buy meat as well as cookies, which she "goes crazy for," she said.
While vendors are the main event, WFM also features live music. Last week, the market hosted a performance by Felix Sun and Event, Classroom and Studio Support Specialist at Patrick Gray College. "It can really be a musical glue between the College and the community," Gray said. "It's especially fun to invite a staff member, student, or faculty member I've worked with into the studio for a special guest appearance on a song or two."
WFM also sponsors an intern from the college each summer; last summer Rheanna Fleming '23 worked there. "I was able to deepen my involvement in the community here, meeting many local farmers and artisans in Williamstown," she said.
WFM is dedicated to community service, which includes a commitment to help address food insecurity, Reed-Evans said. The WFM-Community Essentials initiative, for example, provides weekly food donations to needy families in North Berkshire County. Additionally, WFM became a Supplemental Nutrition Assistance Program (SNAP) marketplace in July, meaning low-income individuals and families can use their electronic benefits transfer card in the marketplace. The market received a matching grant from Berkshire Agriculture Ventures, allowing it to match every dollar an eligible customer spends up to $30.
While the WFM is usually a hub for city residents, students also stop by to take advantage of the bounty the market has to offer. As a senior without a college meal plan, Ben Platt '23 frequents the fresh ingredients market.
"I always get a few corn on the cob — the corn has been super sweet — and I try to get gluten-free chocolate chip banana bread when I can," he said. "It's a good mix of people from school and also people we don't see a lot on campus otherwise. It's like being part of the "city and dress" relationship.