SAN DIEGO — The coronavirus lockdown has reduced fisherman Pete Grillo's operation to a folding table and Igloo coolers under a blue awning at the foot of a rickety wooden pier along Driscoll's Wharf.
Even though restaurant suppliers have all but disappeared as customers, the yellowfin supplier on Wednesday sold the yellowfin tuna that hit the dock on Friday. "It's the last of 30,000 pounds," said seller Ben Stephens, 24.
California isn't immune to pork, beef and chicken supply issues, but it does have its own food ecosystem, which includes an abundance of fish and the availability of regional beef and chicken, experts say. That could satisfy the state's appetite for protein in the weeks to come.
California is "the breadbasket of the world," Governor Gavin Newsom said Wednesday.
The direct-to-consumer approach along the San Diego Bay is a very small part of the state's food chain as domestic processors of pork, beef and chicken hit by coronavirus outbreaks closed plants transformation in the Midwest.
Some analysts are predicting a coast-to-coast meat shortage within days. On Tuesday, President Donald Trump ordered processing plants to remain open for national security reasons. But California, with its own fishing fleet, chicken processors and a nation-serving dairy industry, is somewhat immune.
"There's a lot of protein," said David Dewey, president of the California Association of Meat Processors. "Just look for it in different places."
Comprehensive coverage of the coronavirus outbreak
Demand for California-produced meat, vegetables and dairy products has fallen about 50% due to the coronavirus shutdown, Newsom said during his daily briefing on Wednesday.
"They have surplus products. They have surplus products," he said, announcing a program that will match food producers with food banks.
California produces about 20% of the country's milk and has a large poultry processor in Foster Farms, but it's otherwise dependent on the Midwest for pork and much of its beef, according to Daniel Sumner, director of agricultural issues at the California. University of California. Center.
The state slaughters dairy cows for hamburger and raises calves for beef. But yearling cattle are sent to the Midwest to be fed corn and soybeans before being turned into beef there, he said. "We've never produced hogs per se," Sumner added.
California producers supply nearly half of the state's chicken and egg demand, he said.
Bill Mattos, president of the California Poultry Federation, said, "All of our plants are operating as usual and producing enough chicken to meet the market."
Mattos said many poultry plants were at maximum capacity while practicing social distancing and using dividers to separate workers. "We have masks. We are checking temperatures," he said.
Regional beef suppliers may also be able to meet niche demand. Jonathan Tse, the meat department manager at Encinal Market in Alameda, uses Petaluma Poultry and Harris Ranch. "I try to stay local, help local farms," ​​he said.
He said he's been able to keep his counter stocked, although he thinks customers have started to panic because sales have doubled in recent weeks.
"I believe a lot of people are filling their freezers just in case," Tse said.
Download the NBC News app for full coverage and alerts on the coronavirus outbreak
Dewey of the California Association of Meat Processors said small processors, packers and local butchers will always have meat.
"You might not be able to go to a grocery store and buy the exact cut of meat you want," he said. But "I don't think anyone is going to be hungry."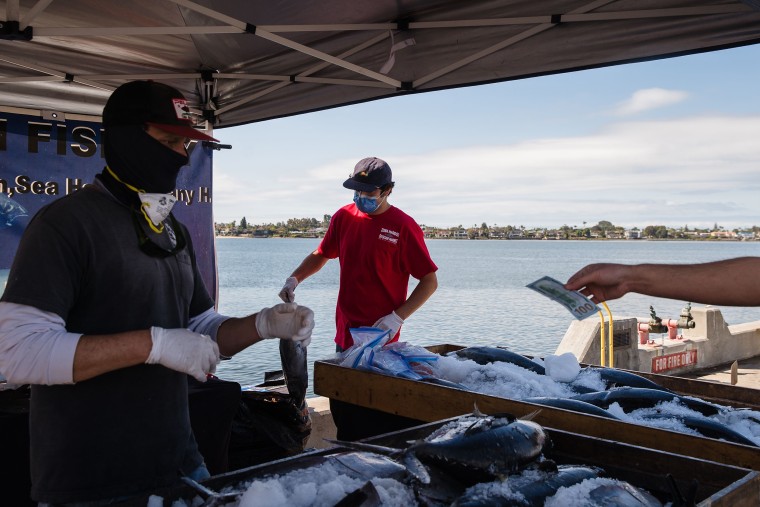 The state's fishing industry, meanwhile, has an oversupply of produce as its network of restaurant buyers has dried up, said Sherry Flumerfelt, executive director of the nonprofit Monterey Bay Fisheries Trust. "Fishermen are looking for a market," she said.
In San Diego, Grillo is part of a five-boat cooperative that hopes to shift sales from restaurant wholesalers to everyday consumers, at least for the duration of stay-at-home orders. A Facebook page advertising his yellowfin tuna now has thousands of followers.
"Now we're going straight off the boat" to consumers, he said.
Customer Gigi Burke, 44, said she bought 2 pounds of yellowfin tuna at home. "We usually go out to eat," she said. "It's a good thing."