While we can't resist the lure of a good bak kut teh on a cold, rainy day, we sometimes crave a soup dish that tastes a bit lighter. That's where a comforting bowl of Singapore's best fish soup comes in.
Nutritious bowls are literally what their name suggests: fish and soup are an integral part of the dish, usually accompanied by noodles or rice and a few vegetables. Still, there are several variations of fish soup that come with your order. Those who choose to be a little "healthier" usually opt for the sliced ​​versions of fish, while those who like the texture opt for thick and crispy fried fish. Can't make up your mind? Most stalls have the option of both.
As for the soup, you can have yours clear, with a cleaner taste that's mingled with the sweetness and freshness of the fish, or with evaporated milk for a creamier, heartier flavor profile. Although it's quite common to add evaporated milk to your soup these days, this method is actually used to replicate a taste similar to what older stalls produced by laboriously cooking the fish head and bones.
If you're craving a bowl of this ultimate comfort food, we've rounded up a curated selection of restaurant and street vendor options to suit all budgets.
Here is where you can find the best fish soup in Singapore:
(Hero & Featured Image Credit: Ka Soh & @bessmnm)
1
/6
Jin Hua sliced ​​fish Bee Hoon
Maxwell Food Center is home to plenty of delicious stalls, but if we're looking for a comforting bowl of fish soup on a cold, rainy day, look no further than Jin Hua Sliced ​​Fish Bee Hoon.
Apart from the regular fish slices and fried fish options, there is also a special menu of grouper fish head noodles and prawn noodles also available for diners. Fish fanatics, of course, head to grouper fish head noodles for its deeper flavors – watch out for the bones as you progress and you'll be rewarded with sweet fish meat and gelatinous skin. The soup here is also different from the cleaner Teochew style fish soup. Here they use a mix of old hens, wax beans and fish bones to create a tastier flavor profile.
(Image credit: @foodluvinggal)
Address
1 Kadayanallur St, #01-77, Maxwell Food Center Singapore 069184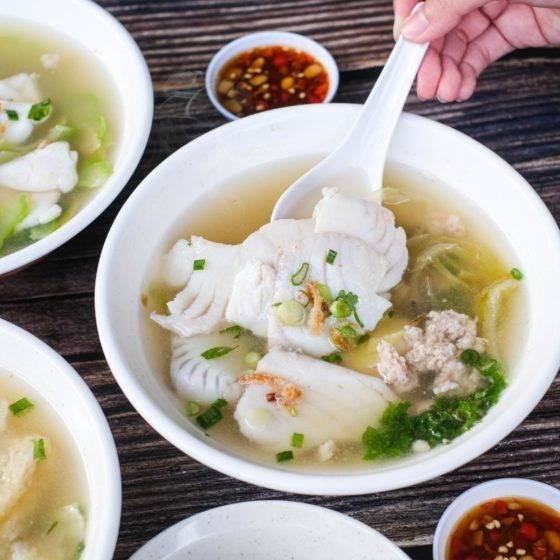 2
/6
First Street Teochew Fish Soup
First Street Teochew Fish Soup is one of Singapore's most iconic fish soup establishments, and seeing queues forming at peak times is a norm. While many fish stalls choose only one type of fish to serve, diners here can choose from Batang Sliced ​​Fish Soup, Red Garoupa, Pomfret, and Mixed Seafood Soup – so you are sure to be spoiled for choice. The aromatic clear soup is a little saltier on the palate than most stalls, but goes well with rice or noodles.
First Street Teochew Fish Soup also has another outlet at 30 Tai Seng St, BreadTalk IHQ (Food Republic), Singapore 534013.
(Image credit: @firststreetfishsoup)
Address
1014 Upper Serangoon Rd, Singapore 534752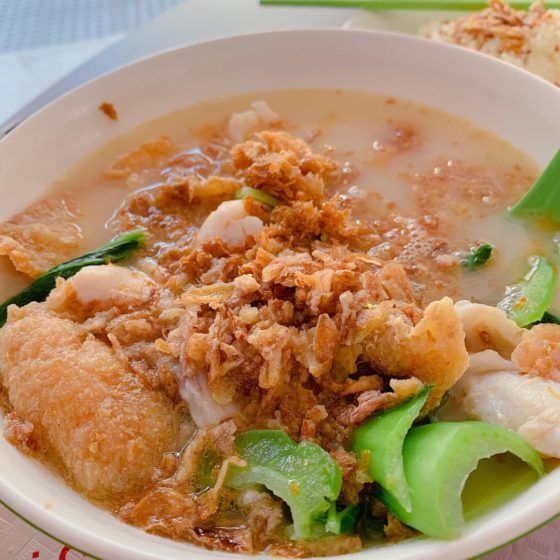 Thick vermicelli is a carb choice at most fish soup stalls, but at Seng Kee we go for the Hong Kong noodles – don't ask us why, it just tastes to the right. You can also get the sliced ​​fish or the fried fish option, but take a cue from the regulars – who have been known to add a helping of crispy egg batter – and opt for the fried fish option.
(Image credit: @nicolewongap)
Address
163 Bukit Merah Central, Bukit Merah Central Food Centre, #02-56, Singapore 150163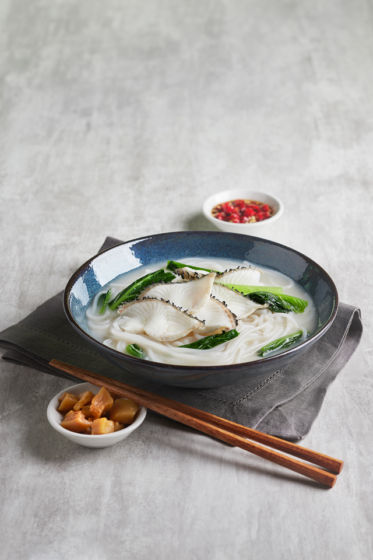 Ka Soh is one of the few places in Singapore where you will find the milk fish soup prepared in the laborious old school method. Here, the kitchen first fry the bones of snakehead fish before using it to whip up a dreamy white broth that takes hours of hard work on the stovetop. Besides dine-in and take-out, you can also buy a few packets of fish soup broth from their online store for your next meal or steamer at home.
Address
22 Greenwood Avenue, Singapore 289218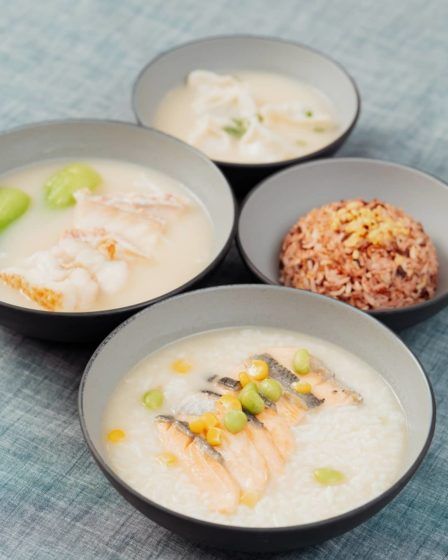 While fish soup in Singapore usually highlights Batang fish (mackerel) or grouper, milkfish is actually the choice of choice in countries like Taiwan and the Philippines. At Milkfish, they serve soups without MSG or preservatives, so you can enjoy a nourishing bowl with peace of mind. The milk isn't actually involved in creating the soup here; the naturally creamy consistency comes from the jelly-like belly fat of the fish, which gives the soup a smooth, sweet flavor. Those looking for a lighter meal can always have the soup on its own, but those feeling peckish should definitely try the Signature Soup Set, which includes the Signature Soup, your choice of carbs, a drink, and some sides.
Address
Milkfish Raffles City, 252 North Bridge Road, #B1-44F Singapore 1791039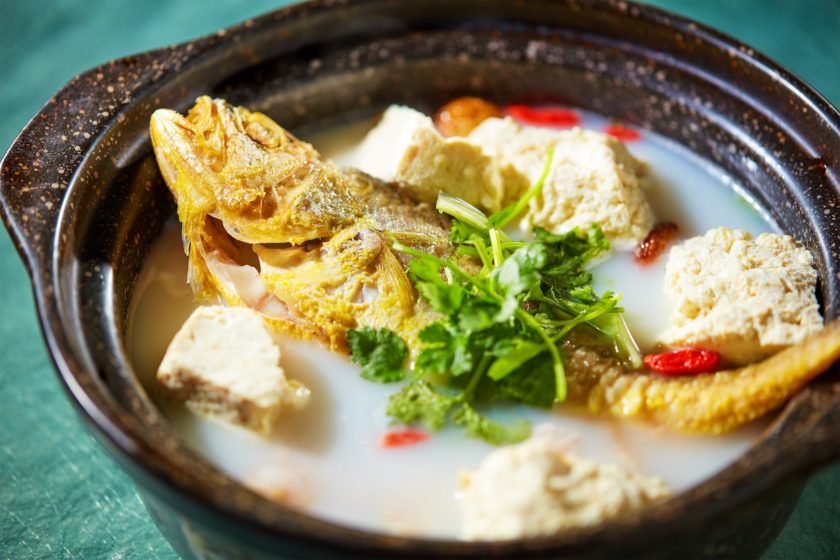 Those who prefer fish soup to share without the noodles can opt for this delicious version at Putien. Claypot Yellow Croaker Soup sees a whole seared yellow croaker – with its stunning golden yellow hue – boiled over high heat to create an addictive, flavorful and milky soup.
While there are plenty of Putien outlets in Singapore, we recommend heading to the chain's first branch in Kitchener Road, which still has a Michelin star to its name.
Address
127 Kitchener Road, Singapore 208514