Fresh salmon was the star this year for fresh meat, fish and poultry. It added £54.5million – the fifth biggest absolute gain of any non-tobacco product in this year's report.
This was driven by an additional 21.1 million packs of salmon passing through checkouts. To put this into context, this represents more than half of the total fish volume gains, which displaced an additional 40.4 million packs.
The success of the salmon is due to a combination of factors, including "strong supplies, particularly from Norway, where record production has been recorded almost every month since the start of summer," says analyst Ibi Idoniboye. senior market manager at Mintec. "However, much of recent demand has been driven by low prices."
Indeed, average pack prices have fallen by 3.5%, with ONS data showing retail prices are now at their lowest since 2018.
This is partly due to an increase in promotions. According to Assosia, there have been 2.8% more salmon transactions in major mults over the past year.
Salmon has also benefited from its versatility and health credentials, says James Cowan, sales manager at Mowi Consumer Products. "It's very easy for consumers to switch to salmon for breakfast, lunch or dinner."
But the salmon weren't the only good swimmers in a category of dynamic fish. Cod, haddock, prawns and sea bass all saw strong growth in value and volume this year, indicating healthier food trends, says NielsenIQ Retail Team Leader Lisa Rees.
In meat and poultry, however, gains were moderate. The value of poultry sales increased only 1.1%, while meat sales were more or less stable. "Consumers continue to cut spending for health/budget reasons," Rees says. "In addition, restaurants have reopened after Covid-19 restrictions. Availability due to overseas production and delivery issues and domestic meat production supply chain issues may also impact this year.
Bacon and pork were the biggest victims, together losing £25.3million. However, sausages rose by £46.6m partly due to "the easing of Covid restrictions to allow home barbecues and family gatherings", says Rees.
Top Launch 2021
Breaded scampis | Whitby Seafood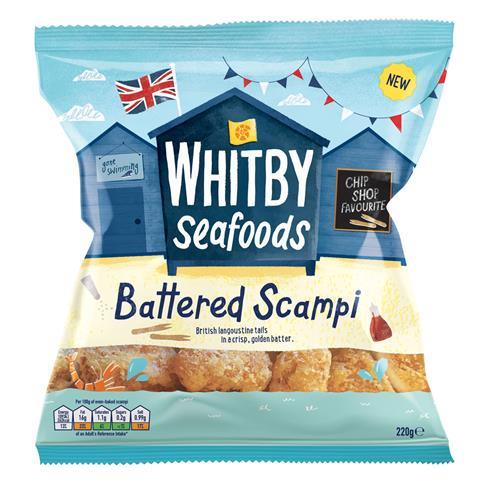 Whitby has capitalized on lockdown-induced demand for at-home 'fake-aways' this year with a battered version of its popular breaded langoustines. The frozen SKU represents a first category, according to Whitby. Made with British langoustine tails, Battered Scampi (rsp: £2.50 / 220g) came in response to an "increase in demand for comfort food, nostalgia and need for provenance", the supplier said when it launched in February. The product is listed by Tesco, Morrisons and Farmfoods.