The UK's first red claw crayfish farm – operating in an indoor recirculating aquaculture (RAS) system – is due to open soon in Dorset, as Elena Piana, founder of Noola Redclaw, explains.
Can you tell me a bit about your experience in aquaculture?
After completing an MSc in Biology and Sustainable Aquaculture, I ran Goatsbridge Trout Farm in Ireland, before joining Seafresh Group as an environmental and social sustainability technologist.
What inspired you to breed crayfish?

Red Claw (Cherax quadricarinatus), is a special species of crayfish that grows to the size of a small lobster and is renowned for its taste, texture, and amazing blue color, turning deep red after cooking. It's a real treat if you're looking for something special for your dinner and has twice as much tail meat as other crayfish species. We aim to harvest them at 100g, a size that means most people would want two for a main course.
With much of the world's best lobster now going to China – their lobster imports have increased by 190% in eight years – we want to bring a worthy alternative to the European market that can make people feel like they have something really special.
We are developing environmentally friendly technology to produce redclaw year-round for high-end restaurants with a stable, high-quality product they can rely on. Our technology has been developed with high animal welfare standards in mind to ensure that our crayfish are handled in the best possible way, from hatching to harvesting.
Aquaculture is an increasingly important source of safe, nutritious and sustainable seafood for people around the world. Globally, aquaculture production must double by 2030 to keep pace with demand. These increases in demand for aquaculture products, food security considerations and job creation have generated an increased need for skilled workers.
We have received a lot of interest from distributors specializing in high-end seafood products and have decided to partner with Port Sauvage Ltd. because our values ​​align.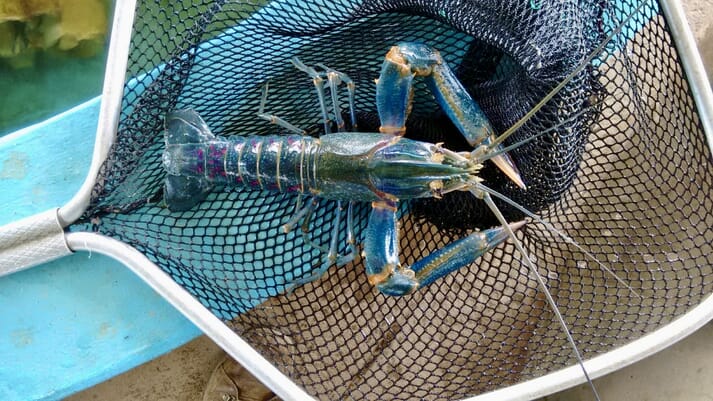 What are the stakes – from the breeding point of view – of the production of crayfish in a RAS?
While the species is quite widespread in the wild, the only information available comes from their pond culture in Queensland. Due to the different conditions in the ponds, we need to develop knowledge on how to produce them in RAS. However, we have a distinct advantage as one of our board members, Josh McNally, previously ran Australia's largest red claw farm and also has experience building RAS.
Who are the other team members?

Unusually for this sector, we are a predominantly female team. Only 4% of global seafood companies are run by women, so we are an anomaly. We also have a female production manager, Rio Lightowler, who previously ran the Dorset Cleanerfish Hatchery. And our other board member is Marcella Navarra, CEO of Global Project X – a business accelerator funded by the WWF. We are now looking for another board member – someone with experience in marketing agricultural products and with links to the hospitality and restaurant sectors.
Why did you choose to locate in Dorset?
Dorset Council is committed to supporting the development of the aquaculture sector to generate quality jobs and employment opportunities in the county. They not only helped us with on-the-ground connections and access to bid writing services, but they also helped us hire a perfect starter site.
How have you funded the project to date and how much additional funding are you looking to raise?
Noola Redclaw has so far been developed through a combination of grants and self-financing. We recently received a grant of £60,000 from the Fisheries and Seafood Innovation Scheme which will allow us to get started and reduce the initial capital risk.
We have received pre-approval for the Seed Business Investment Program (SEIS), which means that any UK taxpayer who invests with us will recoup at least 50% of their investment in the form of tax relief. We are currently looking to raise £140,000 in our first round of investment, which would allow us to run a pilot farm for 18 months, during which time we will verify our projections related to breeding, hatchery and to magnification, as well as the construction of our genealogical line.
This will allow us to become a fully integrated company, able to control the greatest supply chain risks. Over the course of 18 months, we can produce four rounds of crayfish, allowing us to not only verify but also fine-tune our process and proceed with IP protection if we so choose.
When do you expect to start building/sending your first product to market?
We are starting construction right now and should have something small but up and running before Christmas which is very exciting. We then aim to close our investment round by the end of January and complete construction, which will allow us to hit the market with the first batch by summer 2022.
How do you plan to develop once your pilot project has been validated?
We have already completed a feasibility study for the creation of a commercial scale generation facility and have identified two possible locations in the UK for this – both of which would be able to supply 100% renewable energy. We are also considering setting up in Southern Europe.
Either way, the current location will remain our headquarters and the site of our breeding program and we look forward to developing our own unique strain of redclaw in partnership with a genetics company. We believe there are high levels of inbreeding in the Australian redclaw aquaculture sector and seek to professionalise production.
In terms of the volumes we are likely to produce, I don't want to give a number at this stage, but I will say that we will remain niche producers and stay away from the commodity market. Our trademark will soon be registered and we will produce a unique and limited product.