Farmers from Kahalu upazila in Bogura participated in a one-day fish farming fair on Wednesday, June 8, 2022. Photo: collected
">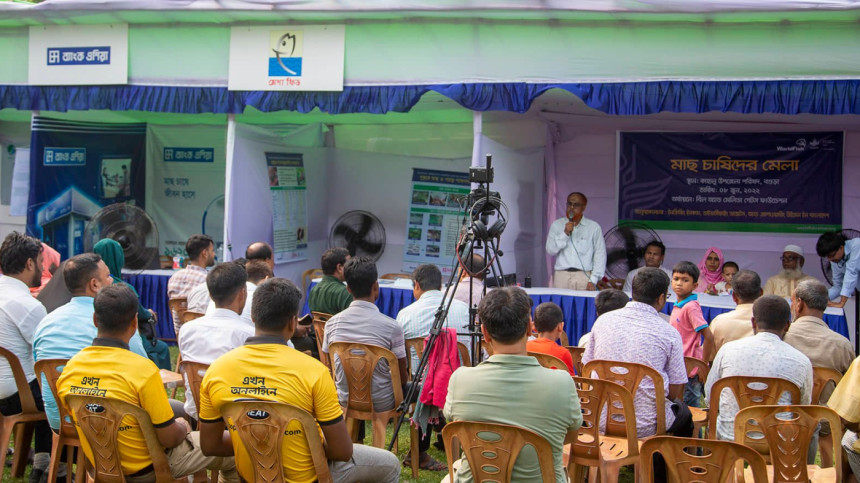 Farmers from Kahalu upazila in Bogura participated in a one-day fish farming fair on Wednesday, June 8, 2022. Photo: collected
Farmers from Kahalu upazila in Bogura learned various new fish farming techniques at a one-day fair on Wednesday.
Held at the grounds of Kahalu Upazila Parishad, the show was organized by the NGO World Fish with event partner June 5 Communications.
There were lessons on various types of fish farming, including nearly extinct species. They received guidance on how to make fish farming profitable and how to use integrated farming methods.
Farmers who attended the fair said that the knowledge they gained there would go a long way to improving their operations and farming methods.
Farmer Mizanur Rahman, from Kahalu, said farmers have learned how to grow fish better, access bank loans easily and process fish for export.
Shakila Bejam, 31, from Shahjahanpur upazila said the fair was useful for everyone. "I hope I can get more profit from fish farming in my three-acre pond with the knowledge I have gained from this fair."
Prominent fish researcher Manas Kumar Saha said that through these fairs, farmers will be able to know the best farming methods and people will know about nutrition and protein intake.
Through this fair, a fish farmer can get ideas on getting bank loans and marketing hassle-free.
The president of the upazila parishad Al Hasibul Hasan inaugurated the fair. Mahmuda Khatun Polly, Upazila Fisheries Officer, was also present.
The fair was also attended by Ministry of Fisheries, TMSS, BRAC, Bengal Meat Processing Industries Limited, Bank Asia, The Right Kind and Mega Feed.
Various organizations participated in the fair and presented their activities to fish farmers regarding fish farming, feed management, credit and marketing.