For the first visitor to 27°C degrees in Accra Ghana, the 10°C welcome offered by the historic city of Alexandria was very unfriendly. But all that faded when I entered the Bibliothek Alexandria for the start of AFRAQ 2021, the twice-postponed conference and exhibition organized by the World Aquaculture Society and other partners, which finally took place. from March 25 to 28.
It was an event that was well attended by many prominent players in African aquaculture, and saw a fair amount of business being done. Exhibitors and delegates were almost unanimous that the impact of the event on African aquaculture will be significant.
The President of the World Aquaculture Society (WAS), Antonio Garza de Yta, was a very satisfied man on the last day.
"174 participants from 74 countries. It is certainly something to be happy about. And when you look at the people who came, and the interactions, I would say a lot of business was done," he said.
Dr Lanre Badmus, Director of the West African Section of WAS, said: "We couldn't have asked for a better event. Exhibitors came from all over Africa, Europe including Russia, and North and South America. And attendance at the sessions was very good, which is not surprising given the quality of the speakers. But I am particularly happy that AFRAQ has given many people from African aquaculture the opportunity to meet and interact, face to face. For about two years we were unable to meet due to Covid. We were able to stay in touch thanks to the frequent webinars we organized. They were very helpful and we will now work closely together.
For many delegates and exhibitors, AFRAQ 2021 gave a strong indication of the potential for significant aquaculture business between African countries. Some African companies are already making significant inroads in their sub-regions.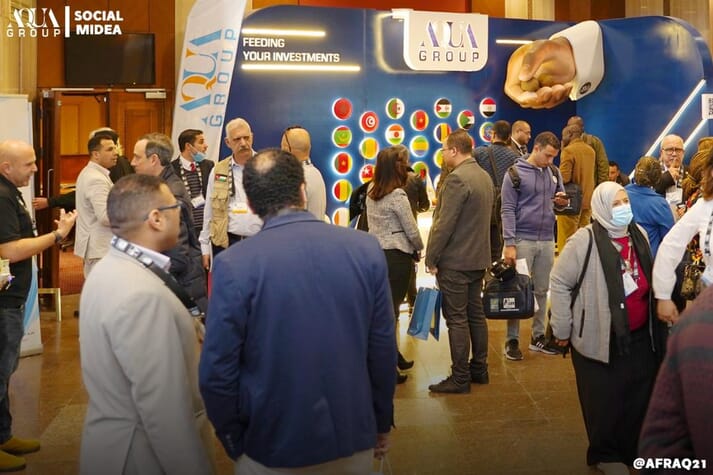 Ghana's SkyFox, for example, had strong roots in Burkina Faso, Sierra Leone and Guinea, until Covid-19 intervened. But the company has since started to ramp up operations, with plans for an outpost in Nigeria this year.
Another Ghanaian company, Flosell, is partnering with local companies in Zambia and Rwanda, and CEO Evans Danso said he was confident that "we will become a major player in this region very soon".
Meanwhile, Robert Kanyembo of Novatek Zambia said he had recently held consultancy positions in Angola, Malawi and Rwanda. He believes that "through cooperation with regional partners, aquaculture can progress significantly over the next few years".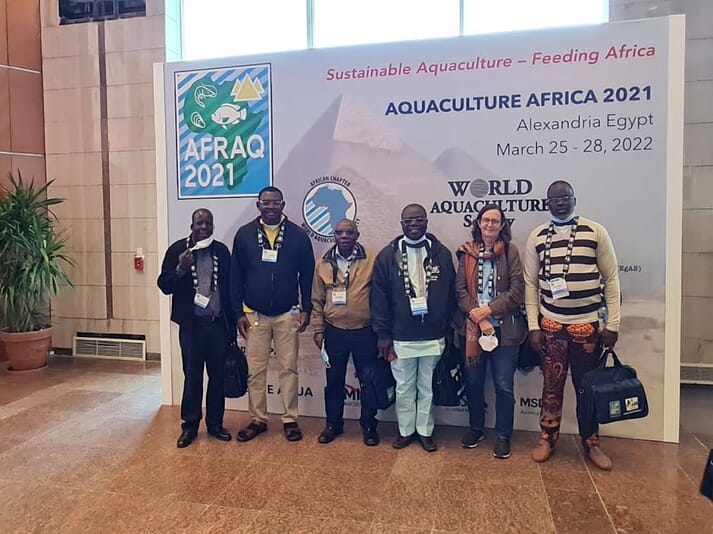 Another indication of the growth potential of aquaculture in Africa can be seen in the spread of international feed companies. At the Aller Aqua stand at the expo, Lasisi Nurudeen, the feed company's Country Manager for Nigeria, said, "Our company operates with a deep understanding of the African market and its requirements. Currently, we have a decent share of the market, but we will increase our market share when our factory is completed".
Dutch poultry and fish feed manufacturer Koudijs has recently been active in Africa, taking significant market share in Ghana, and with an Ethiopian factory now operational.
Wassim Nassar, regional director of The Aqua Group – an animal feed producer based in Egypt – said: "In East Africa, we are based in Uganda, but we supply customers in Kenya and beyond. We are on the ground in Southern Africa. And we are making good progress in Ghana, Ivory Coast and Burkina Faso. We plan to build a factory in West Africa soon, but for now we are trying to ensure that farmers have access to good quality food. We will also be involved in providing high quality technical farm management. The African market is expanding and we want to facilitate this expansion.
There are also indications that African aquaculture can diversify into marine production, and delegates expressed interest in learning from the experience of some Tanzanian farmers who are currently producing tilapia in stages – starting with fingerlings. in brackish water near the sea and ending up in cages. in the sea. Consultations have been launched which should soon lead to exchanges of experience and personnel.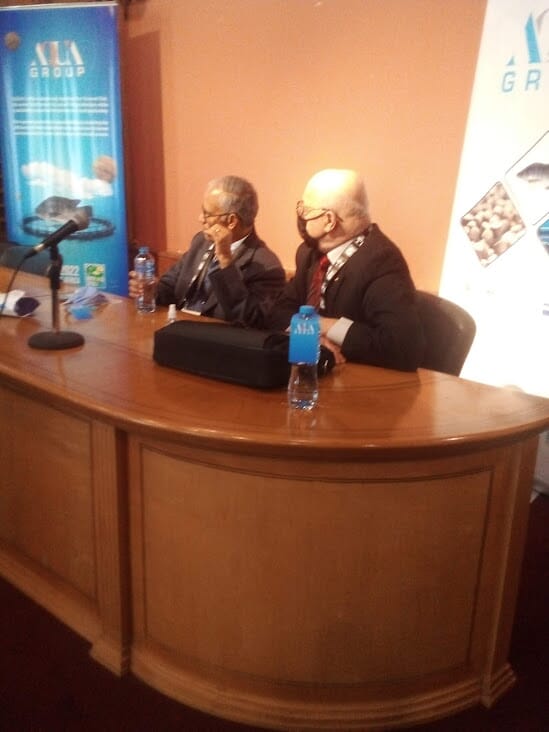 Dr Alexander Kefi, Director of Fisheries at the Zambian Ministry of Fisheries and Livestock, said: "We came here hoping to meet and interact with people who can help advance aquaculture in Zambia, and we were not disappointed. Aquaculture is a major economic and development issue, and our government pays a lot of attention to it. Our private sector is doing well and the government wants to bring in partners to encourage increased production."
The AFRAQ participants were spoiled by the quality of the presentations at the well-attended conferences. These included Diseases caused by poor diet by Prof. Abdel-Fattah Mohammed El Sayed and Biosecurity in fish management by Professor Mohammed Marzouk. The joint presentations led by Karen Veverica mirrored projects sponsored by the Global Initiative for Soy in Human Health, which develops the technical skills of staff in a number of countries. In recent years, fish farm staff from Ghana, Burkina Faso, Tanzania, Senegal, Nigeria and Benin have been sponsored to participate in international training programs which are expected to have a significant impact on the quality of fish farms.